Edible Cake Decorations Made From Real Gold & Silver
The search for new and exciting to edible cake decorations to top your creations is an ever changing quest. There's always something new on the horizon that will stimulate you more than the previous topper. This constantly changing landscape means that the old usually stays old, and the new doesn't stay new for long. There are however a handful of ingredients that have become known as classics over the years. These are the beautiful creations that survive short lived fads, manias, and trends. The grandest of all such eternal ingredients is edible gold, and edible silver leaf, which when used as for edible cake decorations will leave you with lasting memories of its extravagance.
An edible cake decoration made from historically treasured and symbolically infused ingredients means that it will never go out of style, and will always be hailed as a classic. The flexibility of edible gold or silver means that you are free to sprinkle, add a dash, or entirely wrap parts, or even the whole of your creations with an edible cake topper made of real, edible gold or silver.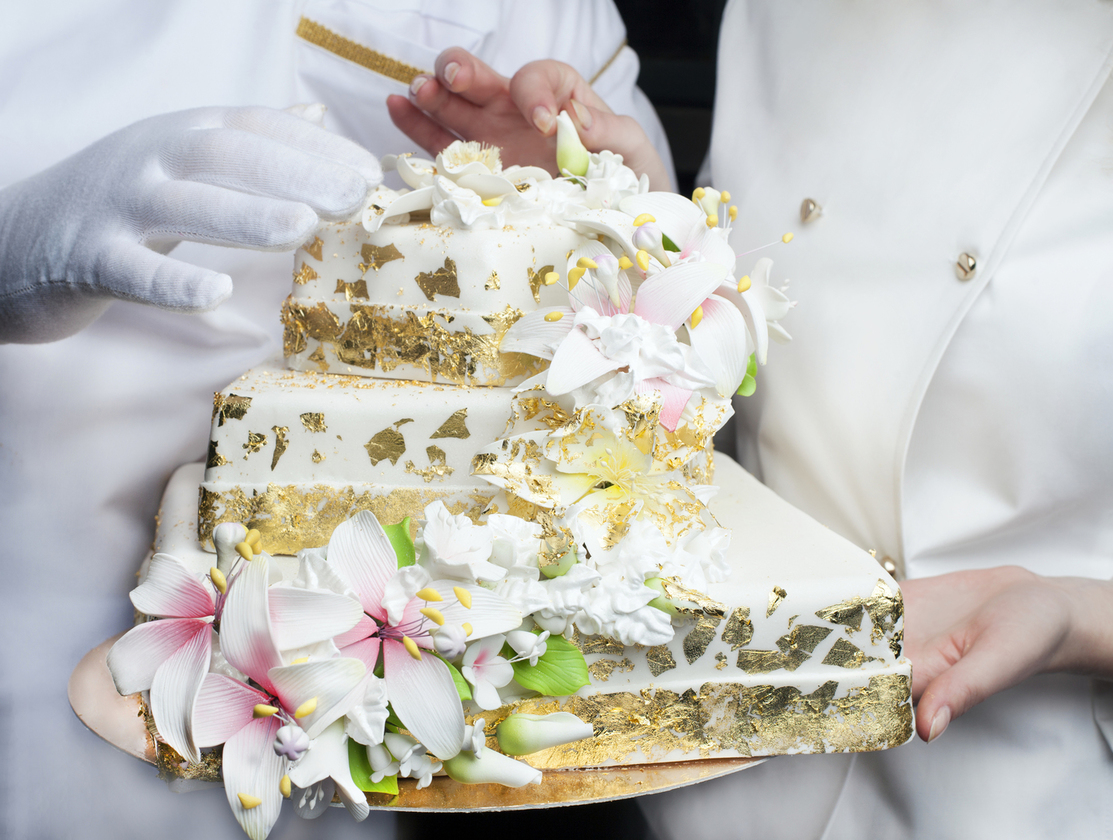 Perfectly Safe, Perfectly Brilliant
Tasteless, textureless, and perfectly safe for the human body, gold and silver work as edible cake decorations that will draw attention to your work like never before. The sheer experience of having eaten real gold and silver creates such a sensation that it can't help it but create the sought-after "word of mouth" marketing that you've been looking for, at a price that will surely surprise and amaze you. Our products are not just within reach, they are popularly priced.
Available in a variety of shapes and sizes, as well as quantities, you can be sure that our products will fit your needs, whatever they may be. From 3,3/8Inch squares, to flakes, crumbs, and powders, you'll be able to add anything from a tiny sparkle, an encrusted glimmer, to completely covering your cakes and pastries from top to bottom in a beautiful coat of gold or silver. Edible cake decorations have never been this flexible, beautiful, and ever-lasting in their ability to create excitement.
To be used as an edible cake decoration, gold and silver are processed using techniques passed down by master craftsmen over centuries. The metals are crafted into a fine and thin set of sheets that are thinner than any tissue paper, even going as far as to become translucent. The absolutely thin size of the edible gold and silver leaf sheets means that they will be textureless. Gold and silver are chemically inert, meaning they they do not react with the body in any way, ensuring a safe experience. You can be rest assured that you are recieving a safe quality product when you use CornucAupia's "DeiAurum" line of 24K edible gold leaf and pure edible silver leaf products.
Our company, CornucAupia Gold Leaf Manufacturing, Inc. is an FDA Registered company, and we are proud to provide an AOAC lab tested, product. They are also Kosher, and Halal certified, as well as gluten-free. You can be rest assured that you receive a high quality product when purchasing from our DeiAurum line of edible gold and silver leaf for your edible cake decorations. Find out more about CornucAupia's organization memberships, the certifications on our 24k edible gold and silver leaf product lines.